Release notes version 7.8 - September 2023
27 Sep 2023

1 Minute to read
Release notes version 7.8 - September 2023
Updated on 27 Sep 2023

1 Minute to read
---
Share feedback
Thanks for sharing your feedback!
Overview of operational changes and new features deriving from the software upgrade from version 7.7 to version 7.8.
Overview:
GateUI paging language change
Release notes
1. GateUI paging language change
We have slightly rearraged the GateUI main page layout. Paing language change is now at the main page bottom instead of the header. Functions are the same, just click on the bar and a new window appears for language configuration.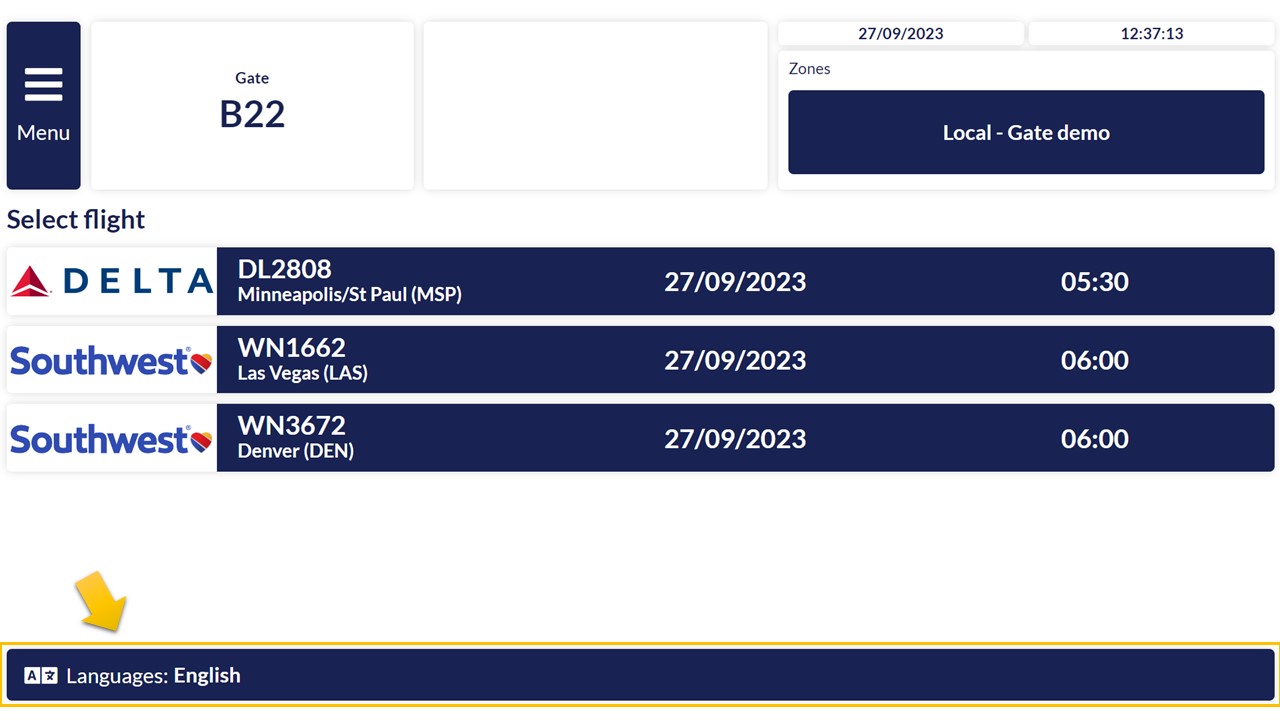 The white box in the header will not stay empty, we are preparing a new feature for your in the next release. Stay tunned!
2. Software release September 2023, release version 7.8
Feature

Description

Tutorial links

CheckinUI
Our role-based UI family is again larger, we have added a new UI for Checkin counter personnel. Flights can be assigned to the counter displays and content can be managed as defining flight class, adding visual message to the display.
Configure CheckinUI
CheckinUI - counter display management
GateUI new features
We have several new features in the GateUI which are configurable upon your needs and are not part of the demo and tutorials:

Show other gate - enables to change the gate number to page into different zones, for example in case of gate change for flights.
Reopen flight - reopens a departed flight so paging is enabled.
Flight classes -similar toCheckinUI, you can now change the information presented on the display directly from the GateUI. This flexibility enables you to adjust flight class, modify other configuration options or change message inputs with ease.




n/a

Flight list
Odd and even rows colors can be predefined on the list widget.
Create a FLIGHT LIST

Proof of play
First version of the completely new feature for tracking media playback on your displays.
Media proof of play tracking

Tile view
We are polishing and making our platform more user-friendly. On tabs with table view we have now the option to see your item is tile view with item preview all at one glance. Certainly more effective for those who have less items - displays, templates etc.
Templates - search and folder

Display Multi-view of live view
You can tick several displays on the Displays tab and see their live view at the same time.
n/a
---
Was this article helpful?
---
What's Next